Blanca Ross chats about her 'Hybrid Set'
We interview the Catalan artist Blanca Ross, taking advantage of the launch of her new " Hybrid Set " that integrates a multitude of disciplines around the future of art (and techno). A national figure with an international career, Blanca tells us where her career is at, her concerns and her future goals. First, to focus on production and the launch of her new label Between Polarities next month.
1. You recently premiered in your latest stream a new hybrid set in which you address the future and the spirit of art, integrating "poetry, voice, electronic music, Gregorian chants, visuals, live music production and conceptual fashion". How did the idea of integrating such different elements come about and what do they mean to you?
I believe that art can be expressed in many ways, as every language emits a frequency and generates an impact on our consciousness. It can be music, colour, visuals or costumes. I recently discovered the term 'total artwork, created by Richard Wagner, who in his operas integrated six different arts: writing, singing, painting, dance, sculpture and architecture. It is a way of communicating with the environment by treating these disciplines horizontally. As an artist, I try to be aware of the arts I interact with and give them a sense of their own. In my opinion, this is the way to create a coherent and singular identity.
2. You also took the opportunity to present two new singles: "Internal Data" and "Programming Higher States". Your sound dances between deep pulses and psytrance and techno energy. How do you work in the studio? What are you working on now?
In my case, the compositions emerge from a vital need to express something internal, a concept that translates into a new sound language. I am currently preparing a psytechno live set of my own productions, in which I will explore my voice more, and include keyboard and visuals. My aim is to find a personal way to mix techno and psytrance, and to go along with a visual techno narrative. I'm finding it harder and harder to find tracks that express this discourse, so now I want to spend a lot more time in the studio and release my own vision of club music. It is for this reason that I have also decided to launch my own label 'Between Polarities' which will be released in October.
What I am most passionate about is exploring new fields within music, without pigeonholing myself into one genre or profile. The possibilities are so wide that I am constantly experimenting. For example, in recent months, I have been working on the musical composition of the book The Erotics of Creation, written by Ivan Rohe. The poetic text inspires a sound and musical space featuring piano and touches of electronics. The presentations of the book will be small concerts that we will give from November onwards in different hermitages and intimate spaces around Spain.
We are currently seeing techno creeping into the main stage of big festivals and other more "popular" venues, and it is becoming more and more popular. What do you think of this trend?
The emergence of techno in the 80s influenced some later genres. That's why it's still present on the scene. The techno we listen to today has been updated to new sounds and homogenised with other trends, and although little of the original techno remains, many of us have been able to connect with the dynamics of techno today.
Unfortunately, in many cities in Spain, for example in my hometown Girona, the underground scene was replaced by other genres about fifteen years ago, leaving very little space to discover another kind of sound. That's why I think it's very important to always give a voice to different artists and genres, regardless of what the trend is, because it's in diversity that musical and cultural richness is born.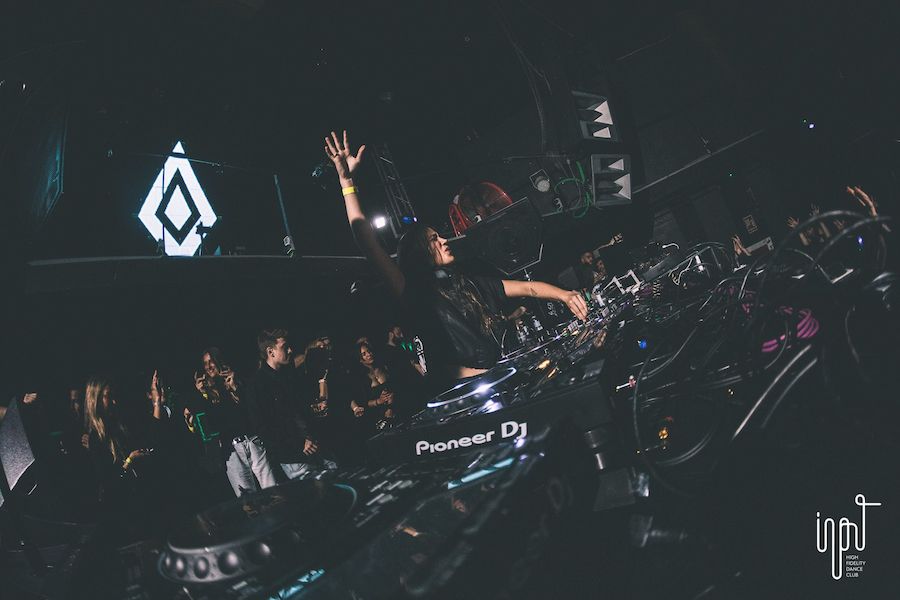 3. In the last few days you have announced some dates during August in Barcelona or Coruña. Will it be possible to experience this Hybrid Set? Can you give us a preview of other upcoming dates in our country or abroad?
After thinking about it and comparing it a lot, I have taken the decision to dedicate the next few months to music production and the development of the psytechno live set, pausing for a while the DJ profession. I have gone through different processes this year, and the consequences of the pandemic affected me creatively and emotionally, especially in this last period. That's why now I want to dedicate time to be able to offer a different kind of performance, focusing my work on composing and live production.
4. Your single "Flying over the southearn oceans" is part of the bso of the film 'Jusqu'ici, tout va' by Francesc Cuéllar, available on Filmin. Have you ever scored a film before? Do you remember any soundtrack that had a special impact on you?
It's the first time I have direct access to cinema, although I had previously participated in the sound design of different plays and in some commercials. Listening to techno in the cinema surprised me because of the great definition and volume it can reach (much better than some clubs). I realised how little use it is given this genre in cinema, and its great possibilities.
I remember that the BSO of Interstellar had a great impact on me when I listened to it in the cinema, especially for the balance between sound and silence. I think the hook of the song is one of the most outstanding melodies of 21st century cinema.
We know about your studies in audiovisual communication and your work in this sector, which gives you a very broad perspective. What is the relationship between video or cinema and electronic music for you?
My studies in Audiovisuals expanded my knowledge and taught me all the possibilities offered by combining audio and sound. These are two disciplines that have fascinated me since I discovered video clips because of their ability to expand the senses. I am becoming more and more interested and curious to delve into the world of sound as a post-production tool.
Two years ago I started working with visual artists like Acid Thermal, Eclipse Lunar Techno, a vj collective, and also with other artists like Vlaama and Efrén Mur. My next goal is, together with the live set, to create a visual story in line with the musical narrative.
5. You've been doing this for a decade now, and your style and concerns have been changing over time. What is your assessment of what you've experienced and how do you face the future? Any goals on the horizon that you want to share with us?
It's been several years with a clear evolution curve until I found my own musical identity. Working as an independent artist allows me to have a lot of freedom of decision and exploration, but that also means that the road has been lonely, abrupt at times, without being able to count on a team, an agency that could support my artistic career.
Now I find myself immersed in this new step, focused above all on music production. I think that this project will represent a qualitative leap compared to my previous experience, and although inevitably all change brings uncertainty, I trust in the future, in intuition and in music, which always accompanies me.
Thank you so much Blanca!
Tags: